i_id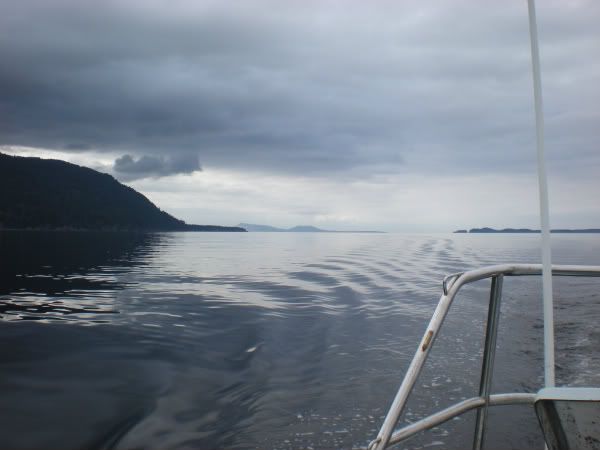 For all my talk about boats and sailing, I don't get out cruising as often as I ought, or even as often as I'd like to. Work makes it tricky, and so does my general indolence. Even this time, this cruise to Sucia about two weeks ago, I slept through the first day almost entirely, and part of the way home as well. I didn't get to sail at all; the wind and I were never awake together.
But I did get to wander around my favorite island for an evening and a morning, and that was lovely.
Sucia has a scent, a spicy lovely smell that reaches straight back into my skull and pulls my childhood out to wrap around me like a blanket. It's the scent of hemlock trees and dust, decades of peeled crimson madrona bark and the fresh green underneath, of cedar and swamp. Every sense I have has a memory here.
I got my first beesting here, and my first sunburn, and I've caught tiny fish in the little sandstone formations that mark the beaches, and pipefish in the sea of eel grass that floors the bay. I've caught so many crab we had to summon the whole dock to help us eat them all, and lain on my stomach for hours trying to tempt dock perch with slivers of shipworm. I've dug clams and picked limpets and cooked all of them.
I've listened to impromptu concerts played in the collapsed shell of an old quarry, guitars and drums echoing off the soft stone and reaching out into the bay to twist around the boats at anchor. I've heard the voices the wind makes blowing over a hole-pocked sandstone cliff. The metal whispers of the rigging of a hundred sailboats, all straining their moorings in an unexpected summer storm. The chantings of boy scouts, late into the night.
I've seen the Northern lights here, dim green shadows twisting towards Canadian waters, unobscured by any lights of city or cars. The brilliant green and blue of bioluminscence in spreading rings as my dad rows us from the shore to our boat, outlining each dip of the oars, dripping from their blades in little licks of fire. The perfect circles of jellyfish, pulsing like a heartbeat as they swim blindly over a bed of oyster shells. Three young river otters, fighting like cats over an unfortunate little red octopus. A humming bird, fencing ferociously at us to protect the tiny egg-cup nest beside the trail, two prickly hatchlings asleep inside, round and small as two fuzzy lima beans.
This visit, we hiked a trail that I haven't in some time, around the shallow hole of Mud Bay out to Snoring Bay, an unprotected little finger of water separated from quiet Mud only by a very narrow ithmus. It involved a lot of climbing and scrambling, through the tall, quiet forest that seems thickest on the highest parts of the island. Parts of it, we walked through sallal as high as my shoulders, the trail just a narrow tunnel. Other parts, it nearly disappeared as we crossed patches of summer-gold grass, laid flat by recent rains. I found corpse-candle and indian's paintbrush, and everywhere bunches of wax-white snow berries hung fat and poisonously tempting, seemingly unbothered by birds.
There's no wildlife on Sucia. It has no surface water, so there are no deer, and only once in 45 years of coming there has Dad seen any animal bigger than a snake. But there are eagles, and we saw several, and the water around the islands is thick with life. We'd barely left when we started seeing porpoises in their small family groups, some so close to the boat we could hear their breath. And once on the way home, coming around the easternmost corner of Orcas Island, we saw seals fishing in a whirling tidal rip, so close I could see the whites of their eyes, their wet faces inquisitive as they watched us watch them.
I love that island. All of these islands.